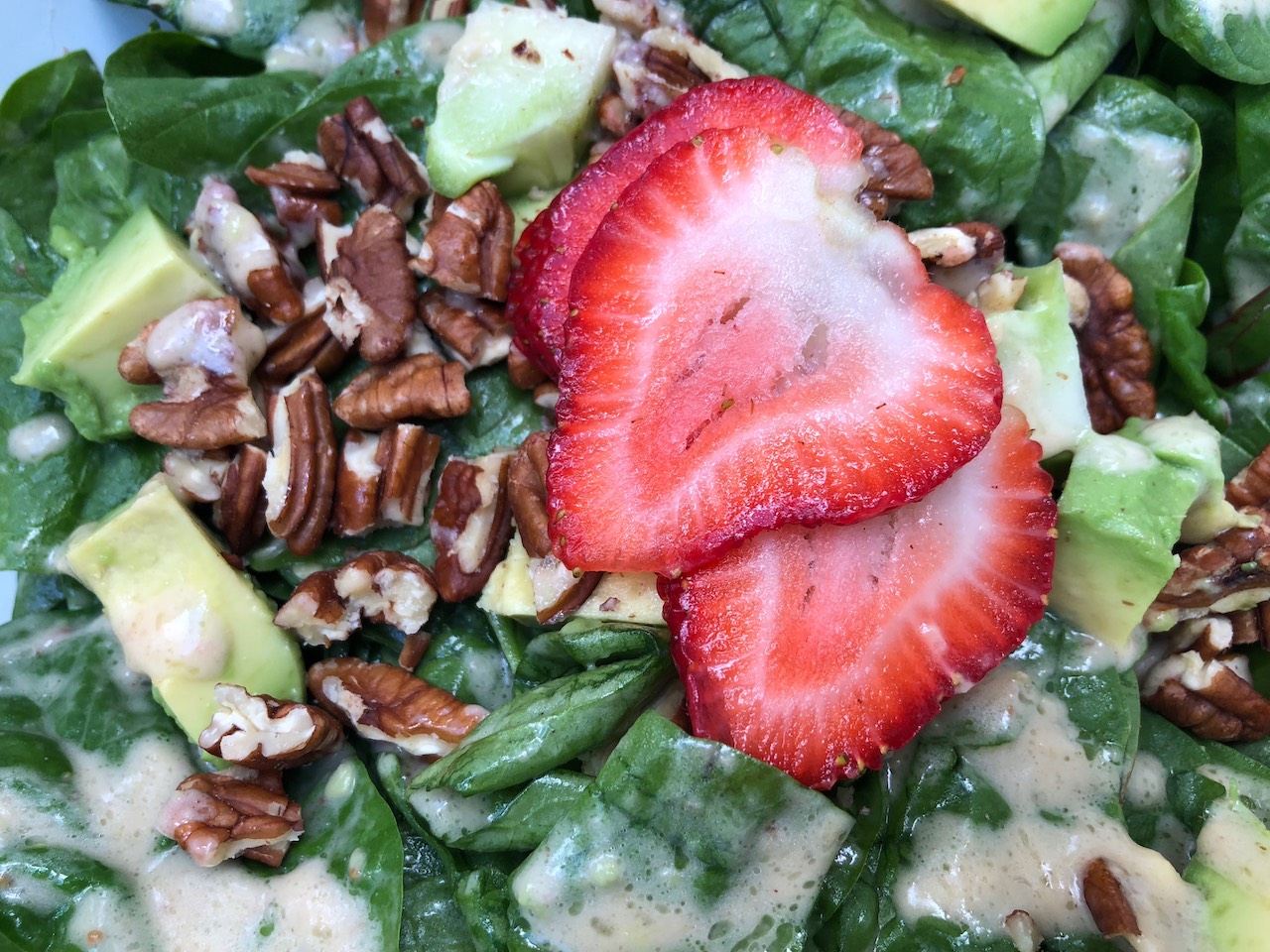 06 Jun

Sweet Spinach Salad

I do love a good salad! Especially in these warm summer months when our garden is flourishing and greens are popping up like crazy (it's June here in beautiful Bend Oregon as I post this recipe).  This summer I have big goals to get more creative with our abundant supply of greens and I encourage you to watch this page for more healthy recipes! For today's recipe, while I wish I could say that I got super creative with this tasty salad, it's really just a new spin on an old fave. I love this recipe as it can easily qualify as gluten free, dairy free, Paleo and even keto! And if you omit the pecans it's even AIP compliant! Enjoy!

Ingredients

Dressing:
1/2 cup avocado oil
1/3 cup apple cider vinegar
2 strawberries, fresh or frozen
1/3 avocado (save the rest for the salad)
Pinch of stevia or monk fruit sweetener to taste (1-2 tbs honey can also be used for a higher carb dressing)
Salad:
Spinach, about 4-6 cups
Strawberries, about 3-4, sliced
Pecans, about 1/4 cup, whole or broken
Avocado, about 1/2-1 cup, chopped
Steps:
Blend first 4 dressing ingredients in blender then add stevia or monk fruit sweetener to taste. Honey can also be used as a sweetener for a higher carb version or for those who don't tolerate stevia/monk fruit.
Salad ingredients depend on how big of a salad you're making. You'll need spinach, pecans, avocado and sliced strawberries. You decide how much of each depending on how many you'll be serving.