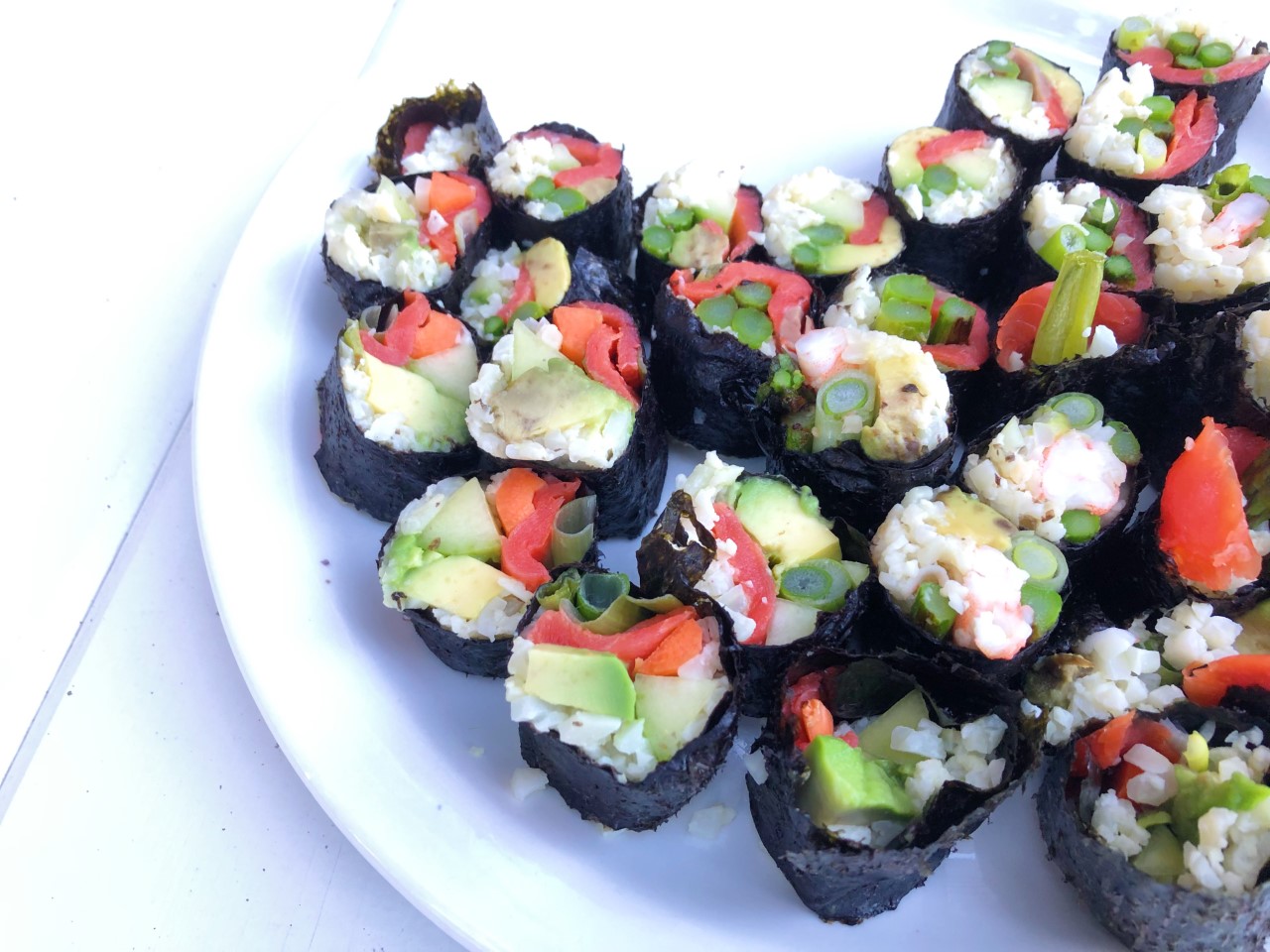 27 Aug

Sushi (Paleo, Keto, AIP)

Looking for a way to still enjoy your beloved Sushi while following a Paleo or Ketogenic lifestyle? Look no further than this recipe! While not exactly the same, I've found the cauliflower rice makes a pretty decent replacement for rice in our favorite sushi rolls! And, when we realized just how many carbs (and calories!) we were saving by making this simple switch it was honestly a no-brainer to continue experimenting with various versions of sushi rolls. And speaking of experimenting, I encourage you to do the same with this recipe! While I typically add in various combos of cucumbers, carrot, bell peppers, asparagus, avocado, shrimp, smoked salmon and fresh crab, feel free to get creative and add any combination of these things, as well as any other tasty additions you can think of!

Ingredients:
About 2 cups riced cauliflower
About 8-10 sheets nori (seaweed)
2 cups shrimp, smoked salmon, crab or other meat/seafood of choice
Avocado, cucumber, carrots, asparagus, bell pepper, green onion
Optional: Cream Cheese, Mayo, Wasabi, Coconut Aminos
Steps:

Heat riced cauliflower on stove top until tender. Remove from heat and allow to cool completely. OPTIONAL: Mix in a few tablespoons of cream cheese or mayo here if desired.  Although not completely necessary, this can help the rice stick together a bit better.
Peel and thinly slice carrots, cucumbers, and avocado. If using asparagus I typically pan fry until just tender. Cut green onion into strips about the same width as your sheets of nori. Thinly slice bell peppers.
Lay out a sheet of nori. Add a few tablespoons of riced cauliflower along the edge closest to you and spread out until it is evenly dispersed along the edge. Carefully lay strips of cucumber, avocado, carrot, asparagus, green onion, and/or seafood of choice on top of the cauliflower.
To help seal the roll I usually add a couple of drops of coconut aminos or water along the opposite (top) edge of the nori. Be careful to use only a small amount as too much will make the nori soggy.
Carefully (and as tightly as possible) roll the edge of nori closest to you (along with the contents you've added) away from you, sealing with the edge holding the coconut aminos. Carefully pat/press the outer edge to ensure a good seal.
Set aside and continue filling/rolling the remaining sushi rolls.
You'll want to be ready to eat shortly after sushi is rolled as they can become soggy after sitting too long.
Slice (you'll want a sharp knife!), serve and enjoy.