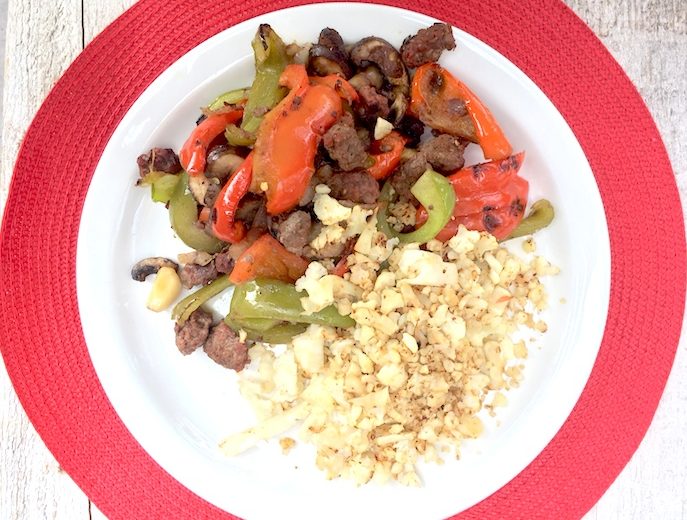 04 Aug

Quick BBQ Fajitas

Like many of my "recipes" this isn't really a recipe at all, but more of an idea for a quick and healthy dinner. This little number takes about 15 minutes to throw together (longer if you're super ambitious and actually marinate the meat) and another 15 or so minutes to grill. You'll notice that the ingredients aren't exact on this one…. make more or less depending on how much you need.

Ingredients:
2-4 bell peppers (I used red and green but any color variation works great)
1 small red, white or sweet onion (whatever you have on hand is fine)
About 5-10 medium mushrooms, sliced (crimini or white both work)
3-6 cloves garlic, sliced
1/2-1 head cauliflower, riced (or do yourself a favor and purchase it already riced!)
About 1 lb beef, chicken, pork or shrimp (I used beef for this recipe)
For the marinade:
1/4 cup white vinegar
1/4 cup avocado oil
1/3 cup fresh cilantro, chopped
1/4 cup water
3 cloves garlic, minced
juice of 2 limes
1 tablespoon cumin
1 tablespoon sea salt
2 teaspoons chili powder
1 teaspoon ancho chili powder (optional)
Steps:
Marinate the meat for a minimum of 4 hours or overnight.
Rice cauliflower if it isn't already riced (Note- Stores like Costo, Fred Meyer and Trader Joes have been carrying this already riced! Trader Joes carries it both in the fresh and frozen section of the store!). Again, decide how much to use based on how much you need.
Slice peppers, ensuring they're about the same size for even cooking.
Place meat on one side of the bbq and peppers, mushrooms, onion and garlic on the other and grill on medium heat until done (they may be done at different times depending on what kind of meat is used). For extra flavor, I like to toss the veggies in the remaining marinade mixture before adding them to the grill. You can also cook inside on a skillet if that's easier.
While meat and veggies are grilling, add about 1/2 tbs oil to skillet or pan, add in cauliflower and cook, string occasionally until tender (about 5-10 minutes).