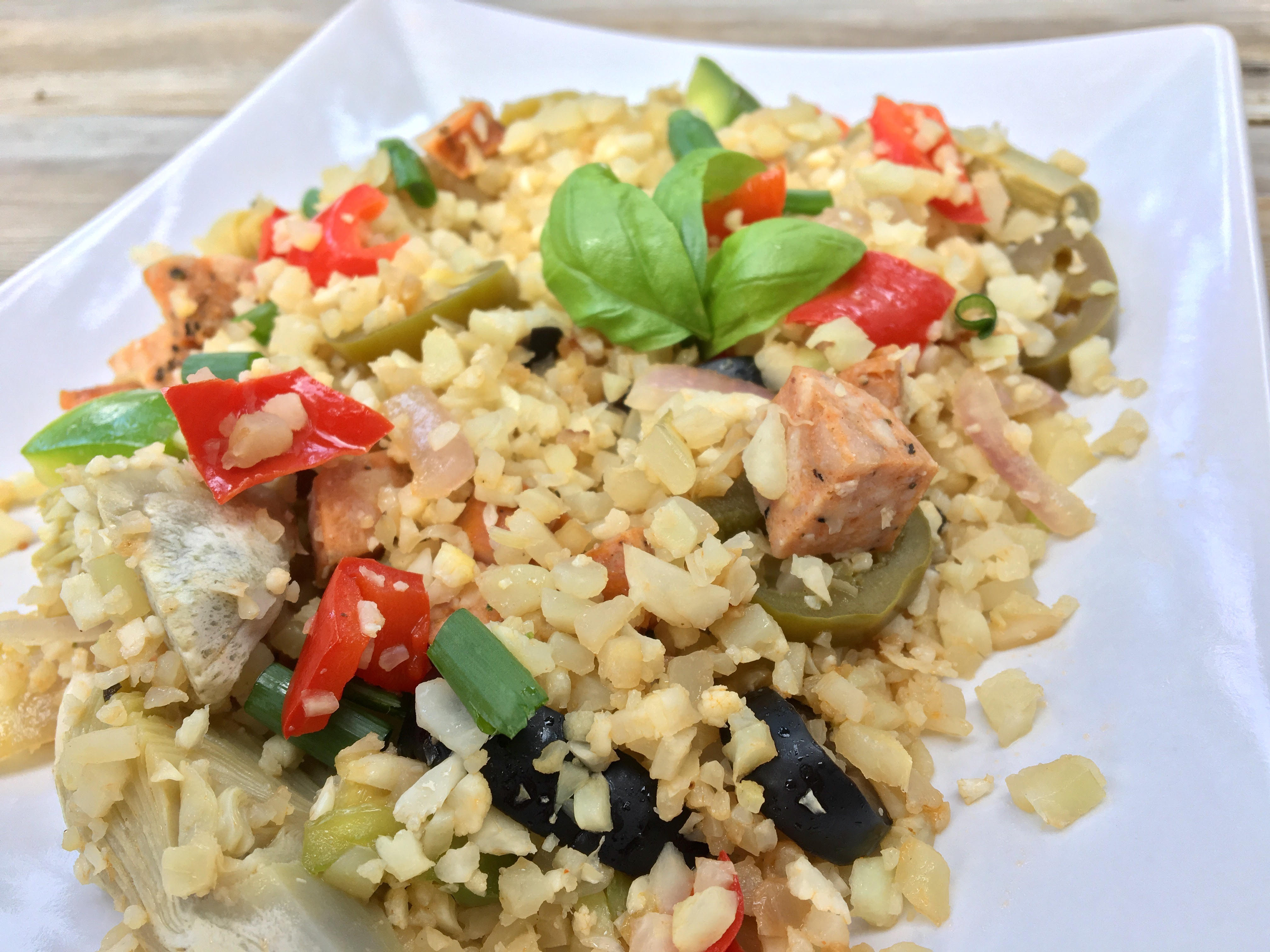 29 Aug

Paleo Pizza Pile (low carb)

This is another favorite in our home (I feel like I say that about a lot of my recipes but seriously… THIS one is yummy!). Back before baby number 2 joined our family, I'd actually take the time to make a dairy-free cauliflower crust for myself and an almond flour crust for my husband and daughter (I'm still working on getting those recipes up… give me a year or so). Now that my dinner-making time has been whittled down to a 10-30 minute window (which usually involves at least one child screaming while I fumble around the kitchen) I rarely take the time to make actual crusts anymore. Instead, I gather up all the ingredients that would have made it onto one of my former Paleo pizza crusts, toss them all into my cast iron skillet and cook or bake until veggies are tender. On a good day this dish literally takes about 10 minutes to toss together and another 10 to cook on the stovetop. Or, if I have longer before my family starves to death, I'll bake it for 30-40 min instead. Like many of my recipes, this one is very flexible. Use more or less of the ingredients listed or toss your own favorite pizza toppings in!

Ingredients:
About 2-4 cups riced cauliflower (Costco and Trader Joes sell this already riced or you can rice it yourself in a food processor or just chop it very finely)
1 bell pepper, chopped (any color is fine or use a couple different colors)
About 1 cup artichoke hearts (I use Trader Joes brand, from the frozen section but any will do)
About 1/4 cup red or white onion, chopped (I also add green when its in season)
1/4 cup olives, chopped
1/8 cup Jalapeños peppers, chopped (fresh or canned)
 Meat of choice- Italian-style sausage links, pepperoni and chicken are our favorites but use whatever you have on hand or prefer
Pizza or pesto sauce- This is optional. I usually don't bother with this but feel free to add it if you have some on hand (or simply add 1/2-1 cup tomato sauce). It does help the cauliflower clump together for more of a casserole-style dish.
Cheese- Feel free to toss some on if you tolerate dairy.
Basil, Oregano, Garlic, Salt, Pepper, Hot Sauce to taste
Steps:
Add a little oil to skillet. Toss in all ingredients. Cook until done, stirring frequently (about 10 minutes). If adding cheese add last and allow to melt on top.
OR combine all ingredients (you can mix them together or layer them) and bake in 350 degree oven until veggies are tender. Add cheese towards the end of baking time to allow to melt on top.