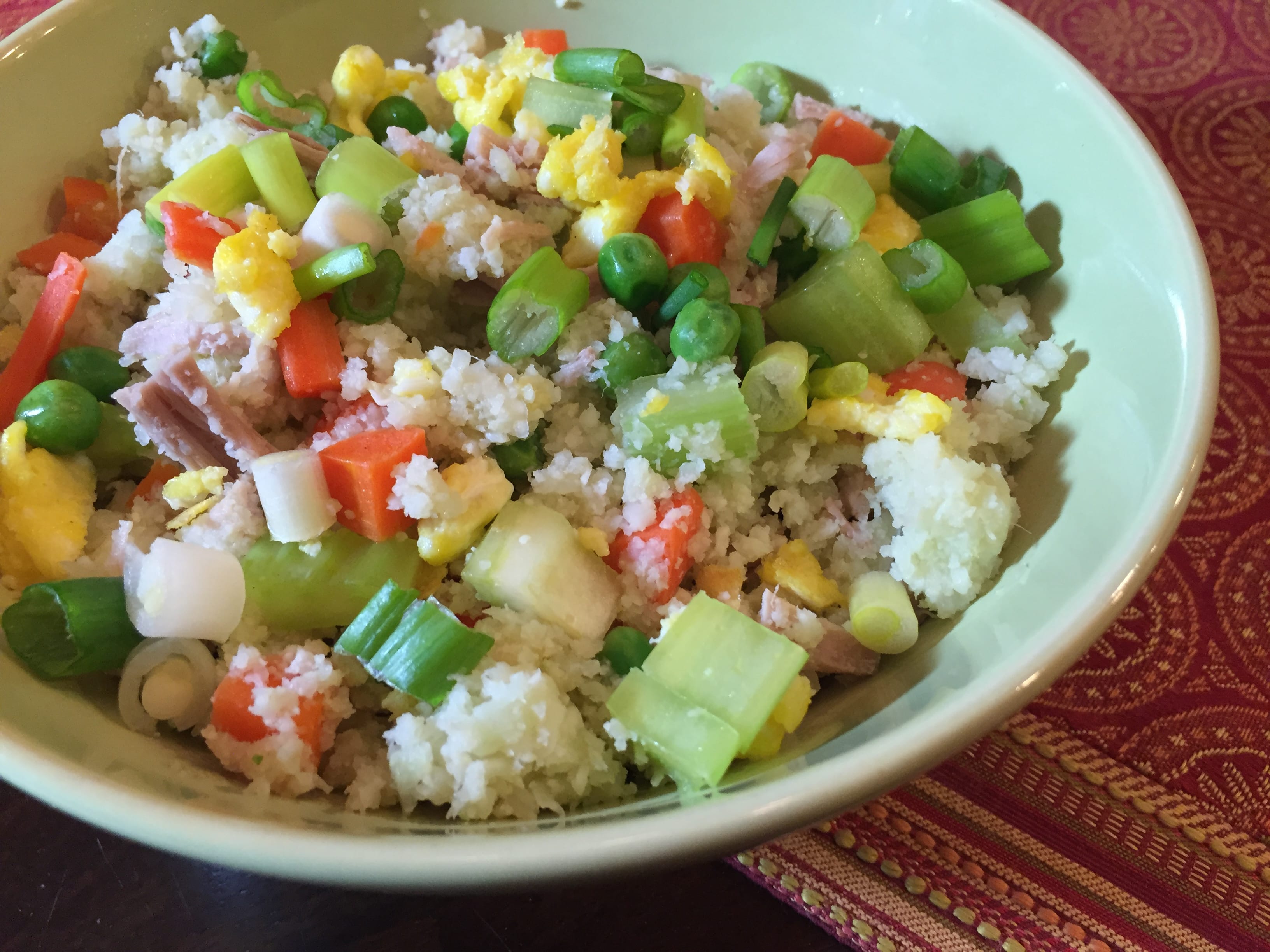 06 Jul

Paleo Fried Rice

This low carb Paleo Fried Rice uses cauliflower in place of rice but still has all of the normal add-ins needed for a delicious dinner (or any meal really). You can rice your own cauliflower or make your life easier and just grab a bag of riced cauliflower out of the freezer aisle of Traders Joes if you have one near you (yes they have that now!). In fact, do yourself a favor and grab a few bags of it for future meals as well. OR as I always recommend with my patients, double this recipe to give you leftovers for lunches the next few days.
Ingredients: 
1 head cauliflower, riced
About 1/2-1 pound meat of choice, cooked and chopped (I used pork but chicken also works)
2 eggs
1/2-1 tbs coconut or avocado oil
2 medium carrots, chopped
2 stalks celery, chopped
1 cup peas
1 clove garlic
1/2 tsp minced fresh ginger (or about 1/4 tsp dried ginger)
1 tsp red pepper flakes
1-2 tbs coconut aminos (I tend to go on the lighter side for less sodium)
1 teaspoon toasted sesame oil
3 green onions, chopped
Steps:
Rice cauliflower 

In skillet, add oil and toss in carrot and celery and cook on medium heat stirring frequently about 2 minutes
Stir in cauliflower, garlic, coconut aminos, sesame oil, ginger, pepper flakes and meat and cook stirring frequently until rice is tender about 5 minutes
Stir in peas and cook another 2 minutes or so. (You can add these in the prior step but I always tend to add them closer to the end of cooking to ensure they get heated but not mushy.)
After adding peas, add a little oil and eggs to a separate pan and cook (I don't beat them but rather just crack them both into pan with a little oil and stir frequently as they cook).
Stir cooked eggs into cauliflower, top with green onion and enjoy!