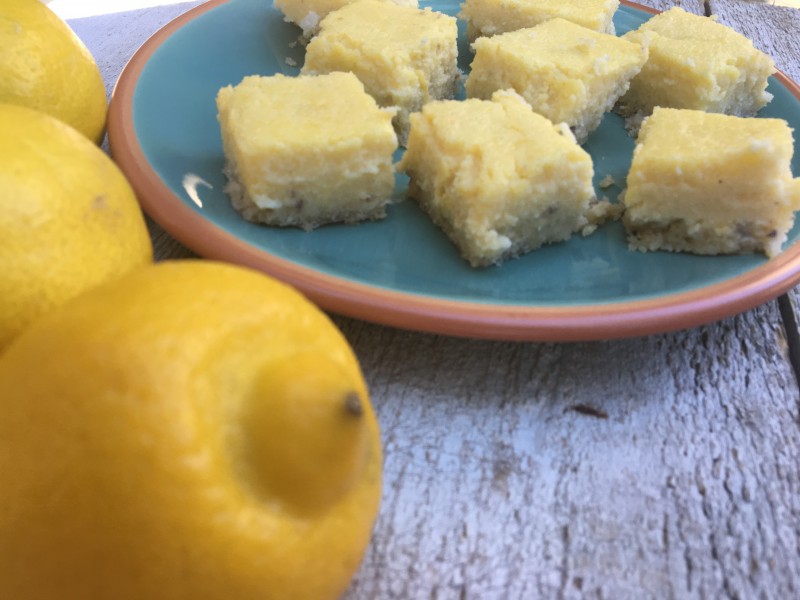 12 Dec

Lemon Bars (low carb, low sugar, keto friendly)

We've been playing with the ketogenic diet in our home lately and so far I've got to admit I'm kind of in L.O.V.E. Energy is up, weight is coming down and food cravings are gone. My kind of diet! I've studied the ketogenic diet off and on over the years and am convinced that it is one of the best ways to fuel the body and in fact is really just a lower carb version of Paleo with a few more potential health benefits when followed properly.

While I've been a fan of this high fat diet for some time, I just always struggled to wrap my mind around the idea of such limited fruit. I mean, I can do without the sweet potatoes, carrots, beats and other starchy veggies but the FRUIT; well now thats another story. However, with this in mind I'll also confess that I can very easily overeat on fruit when I'm not careful. SO I decided to give this keto thing a try and just see if I could possibly live with limited fruit (berries are just fine in moderation). And, on this note, one thing that definitely seems to help on those days when I'd really love eat an entire watermelon is to have fruity flavored snacks and treats on hand. Thus I created these lemon bars with the intent of having them pack a BIG LEMON PUNCH. I think it's safe to say I achieved my goal!
Ingredients: 
Crust
1/3 cup coconut flour
1/4 cup almond flour
3 tbs coconut oil
1 egg white (toss the yolk in the lemon filling below)
pinch of salt
Lemon Filling
5 eggs plus 1 yolk (use the other half of the egg from the crust)
2/3 cup lemon juice (this is about 4-6 freshly squeezed lemons)
1-2 tsp lemon zest
3 tbs coconut flour
About 4 tbs swerve sweetener (honey or maple syrup can also be used for those not worried about carbs/sugar)
A few pinches stevia (I used about 180 mg of Trader Joe's pure powdered Stevia)
Steps:
Preheat oven to 350.
I used a 7×10.5 inch baking dish, you can use a slightly larger dish if necessary. Line your dish with parchment paper, making sure it comes up the sides (this makes it easier to get the bars out in one piece).
Mix crust ingredients then press into bottom of dish in an even layer.
Bake about 5-8 minutes.
Mix all filling ingredients and allow to sit about 5-10 minutes to thicken.
Pour over crust and bake another 20-25 minutes or until center is firm (it may still jiggle just slightly).
Allow to cool.
Once cool, carefully lift the bars out of pan (holding on to the corners of the paper) and set them on a cutting board.
This recipe usually makes about 42 bars, each bar has about 2 grams of carbs, 3 grams fat, 1.5 grams protein and 40 calories.