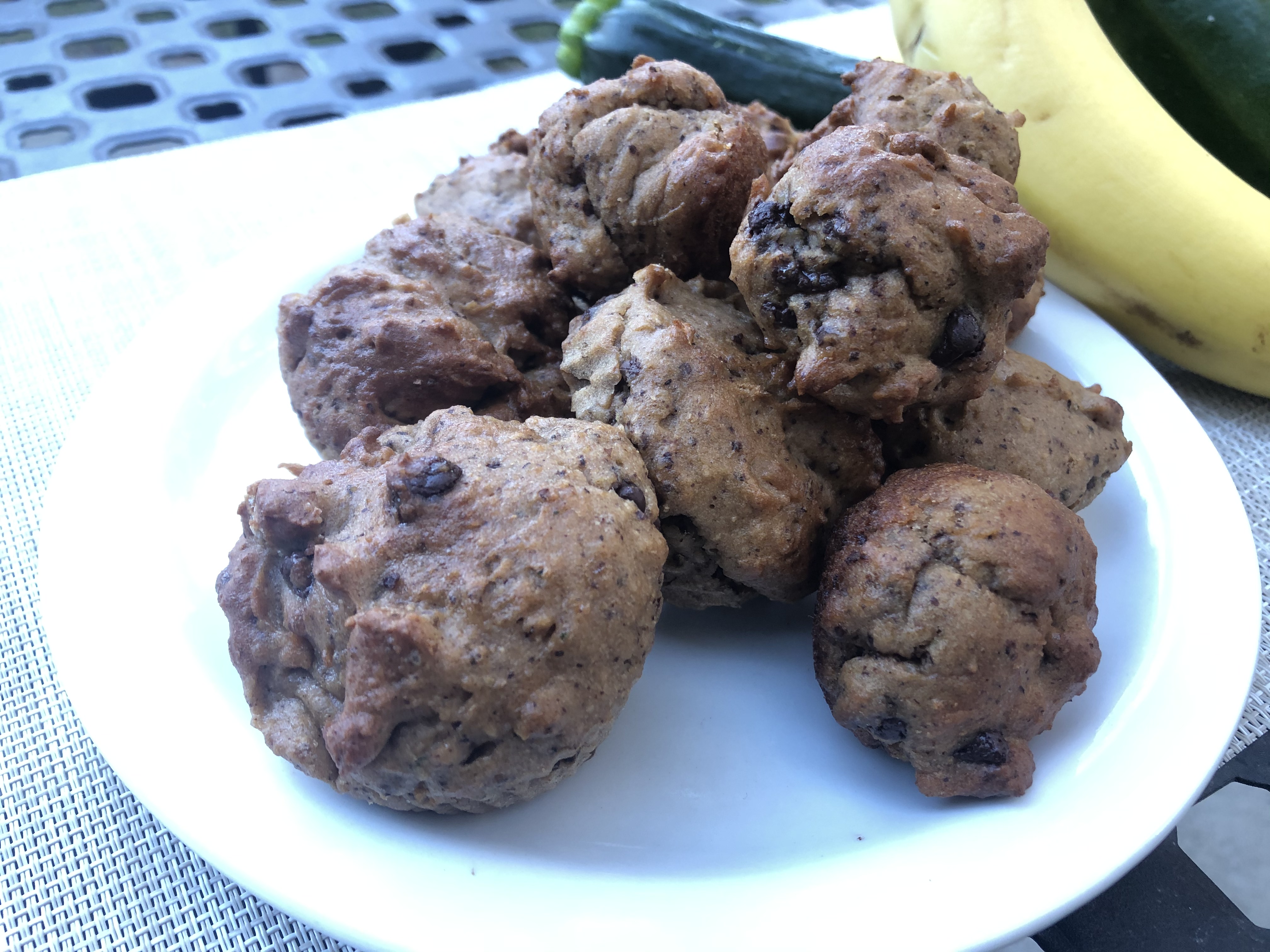 15 Jan

Gluten Free Banana Muffins

As a parent I understand how hard it can be to make sure our kiddos are getting all of the nutrients that they need on a daily basis. With my own children I feel like I'm constantly doing a mental tally to make sure that they've had enough healthy fats, protein and veggies, while not getting too much sugar and processed junk. For parents with picky eaters… or really just kids in general… this struggle can be REAL. So, I created these banana muffins. With a healthy dose of protein (I add a scoop or two of protein powder in addition to the eggs), a half a cup of walnuts for healthy fats and a zucchini tossed in for good measure, these muffins are a great snack or breakfast option that is sure to cross off all of those boxes for your kid's daily nutrient needs. For those really hard to please kids just add in some chocolate chips and they'll be begging you  to whip up another batch of these banana muffins!

Ingredients:
3 eggs (small or medium, if using large eggs 2 will do)
2 bananas
1 zucchini
3 tbs olive or avocado oil
1/2 tsp vanilla
1-2 scoops vanilla protein powder (I love Ancient Nutrition Brand Bone Broth Protein or Garden of Life Protein*)
1/8 tsp salt
1 tsp baking soda
1/2 cup walnuts
1 tsp liquid monk fruit (I love the Lakanto brand Monk fruit drops)
2 cups gluten free flour mix (the Namaste brand that Costco carries is great. Almond flour will also work here)
Optional- 1/2 cup chocolate chips
Steps:
First combine the "wet" ingredients. This will include bananas, zucchini, eggs, oil and vanilla. I usually toss all of this in my food processor and blend until its a completely blended. As my kids aren't huge fan of nuts in their muffins I also toss the walnuts in and blend until they are finely ground.
In a large bowl combine the dry ingredients then carefully fold in the wet ingredients until well blended. I have found that this specific gluten free flour blend that I use (the Namaste brand) tends to work better when not over-blended.
Pour into muffin tins and bake about 20 minutes or until golden brown. If making banana bread simply pour into a loaf pan and bake for closer to 45 minutes or until inserted toothpick comes out clean.
*Want to save 10% on all future orders of protein powders, supplements and vitamins? Email me (Cassie Kremer) at Cassie@BendWellnessDoctor.com and I'll gladly hook you up with a Fullscript account and a 10% discount for life!