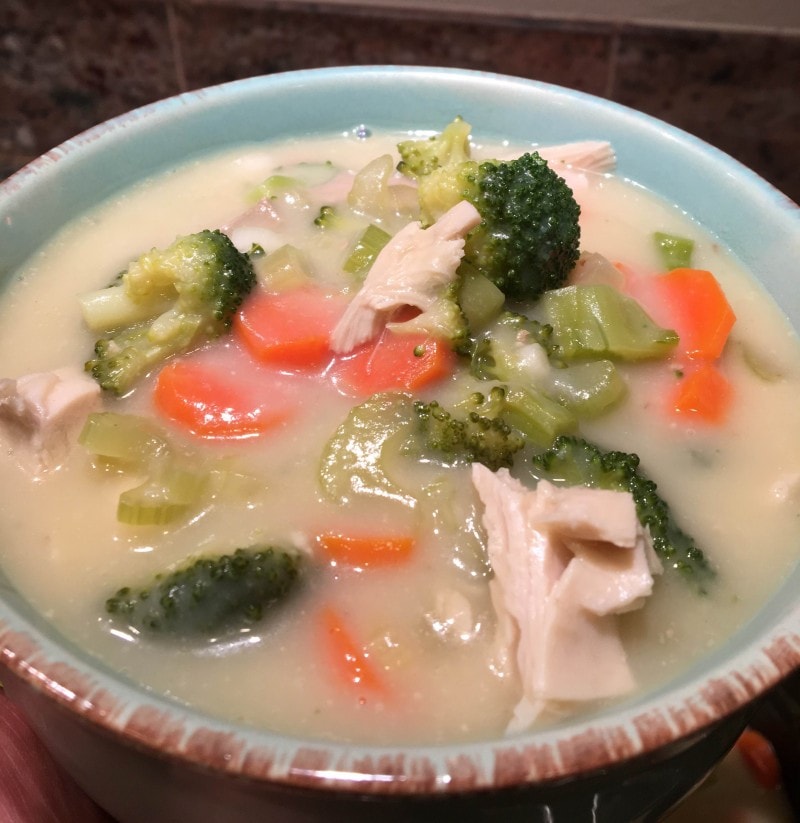 04 Jan

Creamy Turkey Veggie Soup
This dairy-free version of a creamy turkey soup really hits the spot on a cold winter day. And, with bone broth and cauliflower as a base, it is both nutritious and filling; without all the carbs and extra calories that typically come with a "cream" based soup. For those following the AIP protocol this recipe fits the bill and can be made keto-friendly by adding a couple tablespoons of butter or coconut oil and omitting the carrots. Enjoy!
Ingredients

1 head cauliflower
About 4-5 cups bone broth (preferably chicken or turkey)
4 large carrots (omit for keto)
About 4-6 stalks celery
About 2 cups broccoli (I actually chop the broccoli stems up and toss those in as well)
1/2 red or white onion
1 cube gluten-free chicken or veggie flavored bouillon cube (you can omit this and use salt and pepper to taste if you'd rather)
Note: Add more or less veggies as desired.
Steps:
Add about 2 cups bone broth to pot then break cauliflower into smaller chunks and add to broth. Cover, bring to boil and cook until cauliflower is very tender, about 10-12 minutes.
Chop veggies so they are all about the same size (to allow to cook evenly).
Once tender, transfer cooked cauliflower to blender or food processor and blend until well pureed. Add broth that it was cooked in as needed for easier pureeing.
Transfer pureed cauliflower back to pot (or slow cooker). Add chopped veggies and additional broth, using more for a thinner consistency and less for a thicker soup. Toss in bouillon cube or salt and pepper to taste.
If using pot, bring heat to medium/low and cook, stirring occasionally until veggies are tender. If using a crock pot, allow 2-4 hours to cook, and select medium or low temp depending on how much time you have. (I've found I like this soup best if it cooks slowly and sits a bit before we enjoy it. Seems to make the flavors blend together better).
NOTE: For those following the ketogenic protocol, omit carrots reduce bone broth a bit and add 2-4 tbs butter or coconut oil to soup. This is a great recipe for "split" households where some member(s) are following keto protocol and others aren't. I simply use two pots and omit carrots and add extra fat/oil to one pot while adding carrots and omitting extra fat/oil in the other.